Miami Township OH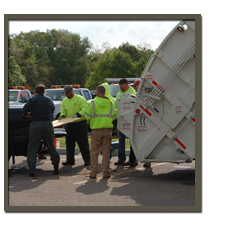 >
CLEAN UP DAYS: April 27 & 28

The Service Department will have serveral trash dumpsters brought to the Civic Center parking lot located at 6101 Meijer Drive for residents to drop off damaged or unwanted household goods. This includes furniture, toys, bikes, grills, concrete blocks, building or landscaping lumber, appliances, etc. Items that are NOT ACCEPTED include yard clippings, leaves, tires, wet paint, anti freeze, or any hazardous material. We will also offer an on-site PAPER SHREDDING SERVICE ON SATURDAYS ONLY. Proof of residency required.

For more information call 248.3728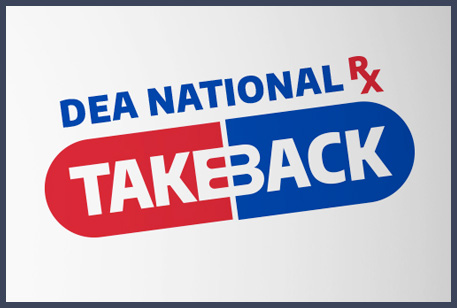 National Drug Take Back Day
In 2015, 6.4 million Americans abused controlled prescription drugs and a majority of abused prescription drugs were obtained from family & friends, often from the home medicine cabinet.

On APR 28 (10am-2pm) - bring your unused pills to the MTPD Drug Drop Box. Call 248.3721 for more info.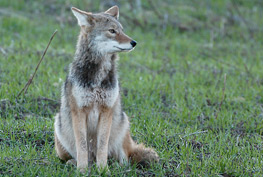 Coyote Info
Spot a coyote - want to know more about what to do, or how to avoid a confrontation altogether? Check out the info below:
ODNR Website
•
Interview with ODNR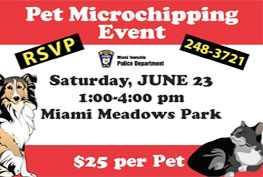 Microchipping Event
MTPD has teamed up with Clermont Animal CARE Humane Society to provide a low-cost microchipping event - just $25! All proceeds benefit Clermont Animal CARE Humane Society (Batavia). Event is open to all! JUN 23 (1-4pm) at Miami Meadows Park.

RSVP REQUIRED! Contact OFC MORGAN to reserve your chip or call 248-3721.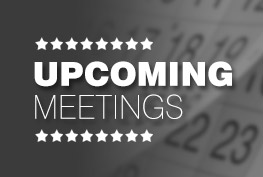 Public Notice
• Zoning Commission (5/3)
• Zoning Board of Appeals (5/7)